SAVE THE DATE and REGISTER TO ATTEND….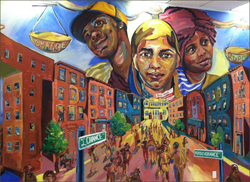 Thursday, February 21, 2013 from 8:30 AM to 10:30 AM: 
BRUSHES WITH THE LAW: YOUNG NEW YORKERS, NEIGHBORHOODS, AND THE CRIMINAL JUSTICE SYSTEM

A Child Welfare Watch forum presented by the Center for New York City Affairs and NYJJI
A conversation with:


Vincent N. Schiraldi, Commissioner, NYC Department of Probation

Ronald E. Richter, Commissioner, NYC Administration for Children's Services 

Ruben Austria, Founder and Executive Director, Community Connections for Youth

Sharieff Clayton, Program Coordinator, CASES

Jaime T. Koppel, Director of Youth and Education Justice, Children's Defense Fund-New York

Cynthia Armijo, Executive Director, Boys Town New York
Moderated by:

Andrew White, director, Center for New York City Affairs at The New School
The city has overhauled its juvenile justice system to keep more young people out of confinement and in their communities. In the process, officials, organizers and providers also aim to strengthen families and neighborhoods. How can city government engage communities and tap into the strengths of local groups that work with teens and families? Will community organizations find resources to participate? And how can families and residents hold the juvenile justice system accountable so that it does not repeat old mistakes?
NEWS: 
New York DCJS Releases Juvenile Justice Indicators Quarterly Update Summary for Jan–Sep 2012 vs. Jan–Sep 2011. See HERE
NEW RESOURCES:
Youth Communication has developed some great resources that furthers the issues and questions surrounding juvenile justice that are highlighted in the film The Central Park Five.  
UPCOMING EVENTS:
March 5, 2013 10:30am NYJJI Conference Call on Disproportionate Minority Contact

Michele Sviridoff, Deputy Criminal Justice Coordinator for Research and Planning
Larry Busching, First Deputy Criminal Justice Coordinator in the Mayor's Office of the Criminal Justice Coordinator
Annie Salsich, Director of Vera's Center on Youth Justice
Courtney Ramirez, DMC Coordinator New York State Division of Criminal Justice Services
March 11, 2013, 9am to 11am: Protecting Our Future; Defending Their Rights @ The New York Community Trust,909 Third Avenue, 22nd Floor, New York, NY 10022

Panelists include: Dr. Jeffrey Butts, Director of the Center for Research and Evaluation at John Jay College; Al Siegel, Deputy Director of the Center for Court Innovation
AND CURRENTLY IN THE WORKS…
Meeting the Non Secure Placement Providers of the Close to Home Initiative – organized by Good Shepherd Services – date/time TBD in East New York
Policy Update Call on Raise The Age – date/time TBD
An Evening Out to see Lyrics from Lockdown at the National Black Theatre in Harlem – date/time TBD
Briefing about the newly released report Juvenile Justice Reform in Connecticut – date/time TBD